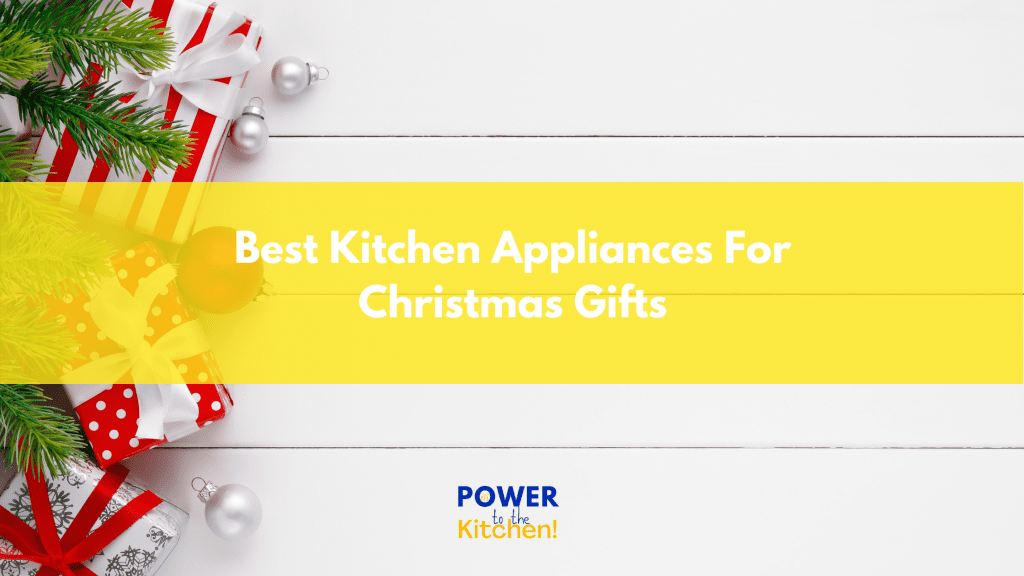 You might be thinking to buy Kitchen appliances Christmas Gifts for someone who love cooking. In this blog, we're going to look at list of 14 best kitchen appliances that possess great value for money and available online.
The right kitchen appliances can absolutely transform your experience of certain tasks in the kitchen and this is why they can make perfect Christmas gifts. In this list we take a look at the best kitchen appliances for Christmas gifts to help you come up with the gifts that could make someone's day and have them thinking of you everytime they reach for their new favourite kitchen buddy.
Note: As an Amazon Associate I earn from qualifying purchases. This does not affect how much you pay for the product.
Best Kitchen Appliances For Christmas Gifts
Here's our rundown of the best kitchen appliances for Christmas gifts.
Breville VST072 DuraCeramic Waffle Maker – Waffle Maker
There's no better time to mix up someone's breakfast or brunch menu then during Christmas and with a waffle maker they'll be thinking of you the whole year round as they tuck into freshly baked waffles.
Another excellently rated Kitchen appliance "Breville VST072 DuraCeramic Waffle Maker" is a great option if you want to give a loved one the gift of freshly baked waffle delight time and again. Breville know a thing or two about toasting doughy delights with over 40 years experience in making sandwich toasters and the like.
The Breville VST072 can have two waffles ready in a matter of minutes and give the lucky owner a great option whether they're served for breakfast, lunch or dessert.
Nespresso Inissia – Pod Coffee Machine
In the likely chance the person you're trying to find a Christmas gift for is a coffee lover, why not indulge their tastes with this excellent Nespresso Inissia pod coffee machine. With pod coffee machines you get a very simple way to make great quality coffee and with this Nespresso machine you also have the choice of using other brands of pods as well as Nespresso's own.
This Nespresso machine is available on its own as well as with a sleek looking capsule stand that could really help to jazz up your loved one's home office or kitchen. As well as making great coffee quickly, the Nespresso Inissia pod coffee machine looks stylish and is compact.
Delonghi Eletta – Bean To Cup Coffee Machine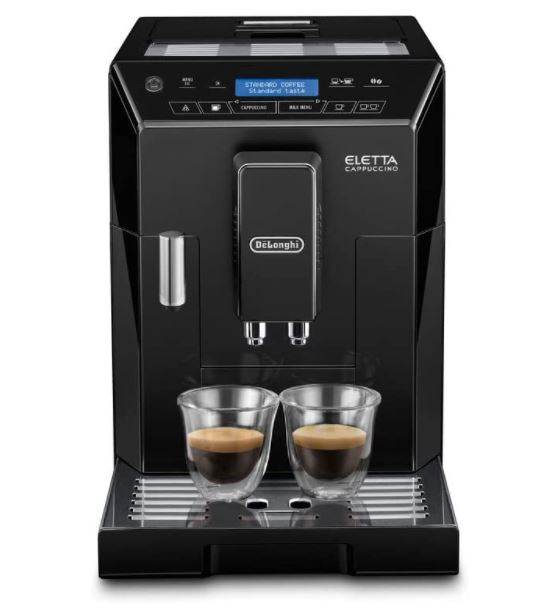 If you're lucky someone is a coffee lover that must have nothing but the freshest coffee possible at home then perhaps the De'Longhi Eletta bean to cup coffee machine is the way to go. Bean to cup coffee machines have the advantage of making coffee by grinding whole beans only at the point you need them meaning you end up with fresh coffee with great aromas.
The De'Longhi Eletta bean to cup gives you the benefits of fresh coffee as well as a range of automatic menu options meaning whoever gets this lovely gift would be able to make some of their favourite coffee drinks at the touch of a button.
You can check our detaled review of another great bean to cup coffee machine Delonghi Magnifica.
COSORI Smart WiFi Air Fryer
If you're after a gift for someone's kitchen that not only makes life easier but also features some cool tech then the Corsori Smart WiFi Air Fryer might be just the ticket. Corsori already offer some of the most highly rated air fryers around and this one adds WiFi connectivity into the mix to make it a perfect Christmas gift for those who love to integrate tech into their kitchen. The WiFi and app based control will allow the user to control their air fryer remotely including scheduling of meals up to 4 hours in advance. With the Cosori air fryer your lucky recipient can cook up their favourite foods with less fat than traditional fryers and do so in a non-stick and dishwasher safe design.
Instant Pot – Multi Pressure Cooker
Help declutter your special someone's kitchen with this brilliant 7-in-1 electric cooker combination. The Instant Duo 7-in-1 Electric Pressure Cooker gives you (1) pressure cooker, (2) slow cooker, (3) rice cooker, (4) saute/browning, (5) yoghurt maker, (6) steamer & (7) warmer. There are not too many appliances that can combine so many functions in one and still end up with such brilliant and widespread customer reviews but the Instant Duo 7-In-1 manages to do so.
You can find a cheaper alternate in shape of a Rice cooker which also comes very handy and saves time. Check our post on Microwave Rice Cooker to find what it is and if it suits you. Click here to find our recommended Rice Cooker & Steamer available on Amazon.
The Smart Oven Air Fryer by Sage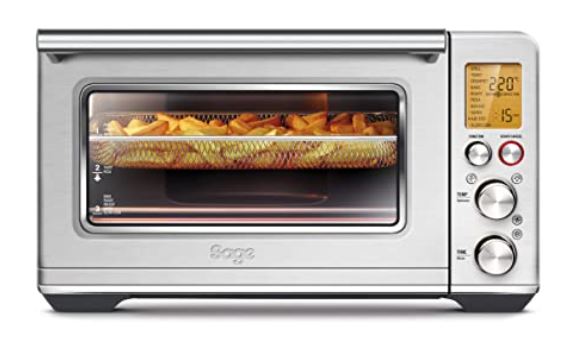 Christmas gifts can be a great way to introduce a loved one to a completely new way of doing things or the latest tech. The Smart Oven Air Fryer by Sage is a potentially great way to that for someone you care about and give them a whole new way of cooking in their kitchen.
This Smart Oven from Sage is equipped with an algorithm backed system ("Element IQ") that delivers power to when and where it's needed helping to create the best conditions for the type of programme selected.
This highly rated smart oven has 10 different cooking functions to give the user lots of flexibility when it comes to making their food. These include airfry, grill, bake, roast, slow cook, reheat as well as a program for pizza and toasting up to 6 slices.
To help speed up cooking time compared to conventional ovens, the Smart Oven Air Fryer by Sage is equipped with convection heating helping to deliver faster and more even cooking.
Breville Sandwich/Panini Press
If there's one thing that Breville seem to know well it's how to make excellent appliances to make the perfect sandwich. The Breville VST025 Sandwich/Panini Press is no different and could make an excellent gift for someone who loves their bread based snacks toasted. Whether it's a classic Panini, ciabatta or hearty grilled cheese the Breville VST025 can handle it. With large flat that plates that can take up to 3 sandwiches your receipient will be able to not only serve themselves but others quickly. The floating top allows for various shapes and sizes in terms of toasted bread giving the lucky recipient a range of options.
Amazon Echo Show 8
Need to remind yourself of that recipe you've been thinking about all week? Why not ask your own personal kitchen assistant to bring it up on its 8inch screen? The Amazon Echo Show 8 could make a great kitchen gift. As well as allowing the lucky recipient to play recipe videos to follow along to as they cook, it can also set a timer, play their favourite music to help them make tidying up more fun as well as being able to make video calls. Available in both charcoal as well as sandstone, the Echo Show 8 could make a wonderful Christmas gift for someone's kitchen.
Panasonic SD-ZB2502BXC- Bread Maker
There's something about the smell of freshly baked bread in the morning that just brings comfort to the senses. That's why the gift of a breadmaker could be so welcomed especially if the person you have in mind is fan of making their own bread. The highly user rated Panasonic SD-ZB2502BXC Breadmaker is a great choice from a brand with a stellar reputation for making best kitchen appliances. The Panasonic SD-ZB2502BXC comes with 17 different types of bread programmes as well as 3 loaf sizes and crust colour. Whether they'll be baking bread for themselves or their whole family, they'll have a machine that can cater to their needs. An extra added benefit of the Panasonic SD-ZB2502BXC breadmaker is that it comes with a automatic fruit and nut dispenser that will automatically distribute nuts, raisins, cereals and the like evenly throughout your choice of load. To top things off this breadmaker can also be used to make jam and fruit compote.
NUTRiBULLET 600 Series – Smoothier Maker
What better way to help a loved one start their new year with a healthy kick then a NUTRiBULLET 600 Series blender that can whip up nutrient filled smoothies in a matter of seconds? The NUTRiBULLET 600 Series is claimed to be one of the best selling personal blenders around by it manufacturers and user reviews seem to support its reputation. What seems to appeal to many and also your recipient is its simplicity and ease of use. Simply fill the cup (you get a choice of two) with your choice of fruit and veg from your favourite recipe, place the lid with a blade on it and get it started. The cup can then be used to store and carry the smoothie making it super-convenient.
Breville VST041 Deep Fill Sandwich Toaster
What better gift to give than the gift of kitchen appliance (toasties) for Christmas? Okay perhaps there are some but do they taste as good! The Breville VST041 Deep Fill Sandwich Toaster is simply a delight; it does a simple job but it does it very well. It has a cut and seal system to make perfectly triangular sandwiches that come out nicely toasted. What's more the VST041 allows you to pack your toastie full of the things you enjoy as it can accommodate thin and thick slices alike with deep fill pockets. It also has a handy ready to cook indicator at the top meaning your sandwiches will be cooked through at the right temperature. The Breville VST041 also comes with a removable set of plates making them very easy to clean. An added bonus is that you can buy removable waffle plates as an extra.
Crockpot Slow Cooker
If it's the simple but succulent life your gift recipient is after then why not get them this excellent Crockpot Slow Cooker (CSC052). There's something uniquely satisfying about taking the time to slow good a meal that we believe cannot be matched. If you've ever tried a 4 hour slow cooked joint of lamb as part of a Sunday roast or overnight cooked pork ribs you may agree. A slow cooker is a great way to bring lots of different ingredients into one pot for a simple but well cooked meal. With the Crockpot CSC052 Slow Cooker you get an easy to use slow cooker that comes with a dishwasher safe pot.
Samsung RS52N3313SL Freestanding American Fridge Freezer with Digital Inverter Technology
There are fridge freezers and then there are Samsung fridge freezers which are a whole different ball game. The Samsung Freestanding Fridge take this to a new level and the RS52N3313SL Freestanding American Fridge is no different.
The Digital Inverter Compressor technology smartly change the fridge's power and running speed to how much cooling is needed. Hence the temperature is constantly perfect, making it more efficient, as well as less noisy and longer-lasting.
Samsung RF27T5501SR 765 Litres 3 Door French Door Refrigerator
With built in cameras you can see what's inside your fridge allowing you to check what's left over when you pop out for the weekly shop. You have the option of downloading the Smart Home App to help you track the expiry date of your food. If that wasn't enough tech how about being able to do the weekly shop from the touchscreen on the front door?
The large touchscreen on the front door works like a regular tablet allowing you to put on your favourite music as you cook or perhaps get some inspiration for dinner with your favourite cooking show. The possibilities seem endless.
The Meater Plus – Meat Thermometer
If the person you're gifting has a passion for cooking dishes to perfection then they'll likely appreciate the excellent Meater Plus smart wireless meat thermometer. With bluetooth and WiFi connectivity the Meater Plus can provide you with the exact temperature of the meat you are cooking and allow you to monitor your dish from the comfort of your phone or other connected device.
Even better with dual temperature sensors it can tell you the internal temperature of the meat you're cooking as well as the external environment its cooking in.
It also comes with a great feature that will recommend an optimum cooking and resting time based on the food you are cooking. You can also set it up to ping you a notification when your food is ready.
The Meater Plus can be used indoors as well as outside with your bbq.
---
Best Kitchen Appliances For Christmas Gifts: Tell Us Your Thoughts