So you're thinking of taking the plunge and getting yourself a shiny new bean to cup coffee machines. But you are wondering – are bean to cup machines any good? In this article, we are going to take a look at just that.
Bean to cup coffee machines are those take whole beans and grind them on-demand before brewing them to serve up your coffee. Many also come with integrated milk frothers whilst some have manual frothers that will allow you to make milk-based coffee as well as black coffee.
Are Bean To Cup Machines Any Good?: Pros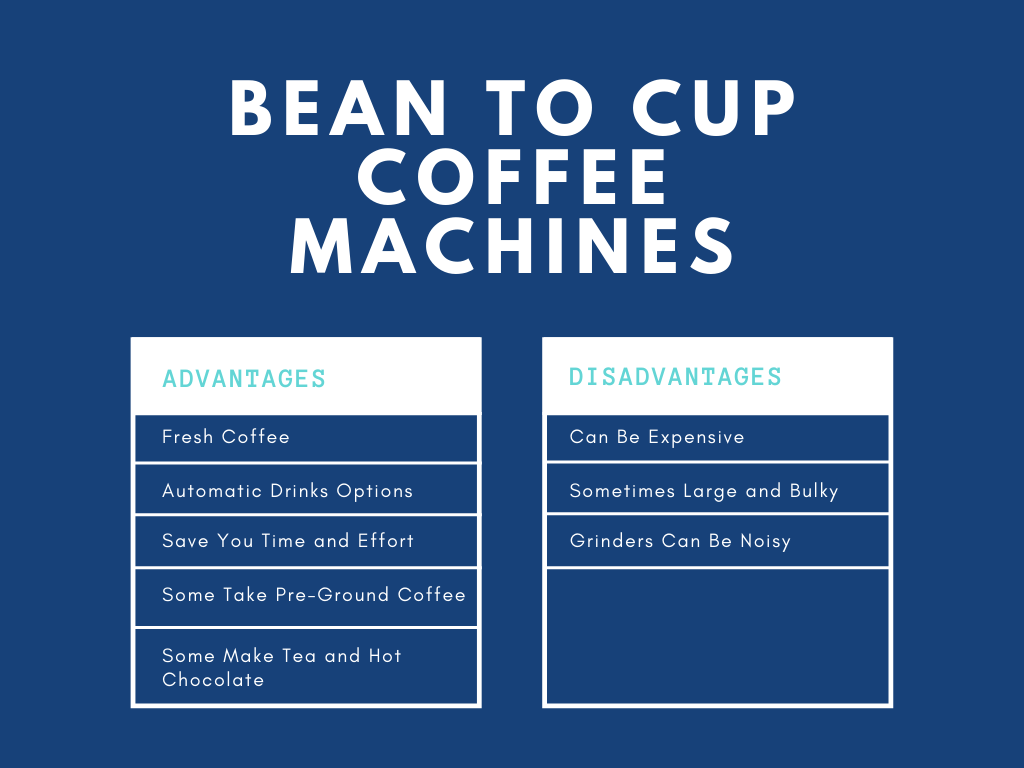 So are these bean to cup machines any good? Let's take a look at some of the main benefits first to try to understand this.
Fresh Coffee
One of the most significant benefits of bean to cup coffee machines above any other is the fact that they can provide freshly ground coffee whenever you need them to. Bean to cup machines will usually come fitted with an integrated bean grinder that will grind them down as the machine makes your desired drink. This results in coffee that is as fresh as it could probably be when you are making coffee at home with a machine.
This level of freshness cannot be matched by ground coffee machines or pod machines which are usually the two main alternatives when looking for automated and semi-automated coffee makers.
The shorter the time between grinding beans and drinking the coffee that is brewed from them, the fresher the aromas and quality. As soon as the beans are ground and become exposed to oxygen, their aroma starts to fade. This is why having a grinder in a coffee machine that can get them ready only at the point of use is such a critical factor in making bean to cup coffee machines so effective for home use.
With pre-ground coffee on the other hand you could be serving up espressos from bags that have sat on the supermarket shelf for a number of weeks and do not have the same level of intensity.
Of course, whether using whole beans in a bean to cup or ground coffee, the main factor in terms of freshness is the roast date for the beans. However, assuming the same roast date for coffee made from a bean to cup machine rather than ground coffee would typically be fresher.
Automatic Drinks With Wide Selection
For many when they buy a new appliance they want it to be able to do everything for them at the touch of a button or two. This is no different with coffee machines. For some, the appeal of a coffee machine is the fact it makes coffee far more accessible even for those who have no experience of making it other than watching a barista at their favourite coffee shop.
This is where bean to cup machines also shine. Many bean to cup coffee machines have fully automatic options for a wide range of coffee drinks from espressos through to lattes, cappuccinos, and macchiatos. With the press of one button or two, some machines will dispense a fresh cup of cappuccino within a few minutes.
This means despite your level of experience, you are potentially able to get your favourite coffee beverage made to the same level of quality every time with just the touch of a button.
Save You Time and Effort
Of course, a kitchen appliance would not be worth anything if it didn't offer some kind of saving in terms of time or effort.
Bean to cup coffee machines are able to offer potential savings in time as well as effort.
If you've ever watched a latte being made in a coffee shop you'll know the number of steps needed to get from bean to cup. All this takes time and effort that most people do not wish to manually expend every time they want their favourite cup of coffee.
This is where bean to cup machines show their value as they can save the user the time and effort involved with making their desired coffee.
Rather than going through each stage manually, with a bean to cup coffee machine the user can press a button, prepare their cup and carry on about their business coming back when their drink is ready.
Some Take Pre-Ground Coffee As Well
An added bonus with many bean to cup coffee machines is the fact they can be used with pre-ground coffee as well as beans.
This provides additional flexibility and also variety in terms of the coffee choice.
It's also a nice bonus effectively getting two types of machines in one unit.
Multiple Drinks
There are many bean to cup machines that will make other drinks such as hot chocolate and tea in addition to coffee.
This can be useful if you are in a home where others do not drink coffee but still like a hot beverage and also gives you some extra choices for those occasions when you want something different.
Hand-picked list of Premium Bean to Cup Coffee Machines
If, by now, you've made up your mind and decided to buy bean-to-cup-coffee-machine then we can help you providing list of hand picked 4 premium machines that are multi-functional and provide all brewing options. Here is the list of 4 Fully Automatic Bean to Cup Coffee Machines;
Are Bean To Cup Machines Any Good?: Cons
Like any appliance, bean to cup coffee machines can have their drawbacks. Let's take a look at some of these now.
Can Be Expensive
Perhaps the most significant drawback of bean to cup coffee machines is that they tend to be quite expensive. Indeed they are typically the most expensive type of coffee machine when compared to pod and ground coffee makers.
This can often be because of the fully integrated coffee making process that is contained within the machine which also includes a bean grinder which is not present in any other type of machine.
Some of the best-rated bean to cup machines available on the market are priced between £500 – £800 though there are decent machines available for less whilst some of the most expensive can go beyond £2,000.
Though the upfront cost of a bean to cup coffee machine tends to be more than a pod machine, they are cheaper to run as you do not have expensive capsules to buy.
Typically Large
Another potential downside for some when it comes to bean to cup coffee machines is the fact they can often be on the larger side.
Given the number of functions they have to squeeze into a single unit, it's perhaps no surprise some of them can end up looking large and bulky at times.
Increasingly, however, there are more machines that aim to be as compact as possible.
In any case, just as with any new appliance you're looking to introduce into your kitchen be sure to check the space available against the dimensions of any machine you wish to go for.
Grinders Can Be Noisy
For some, a potential downside of bean to cup machines is the fact that the grinders can sometimes be noisy when in operation.
Though for any given cup of coffee it's not a phase that will last too long for some individuals this could be a concern particularly if they want to make coffee in the early hours when others might be easily disturbed.
Having said that though it is not uncommon for various kitchen appliances to make some kind of noise but if this is a concern then it may be best to keep an eye out for other user's commentary on the noise level.
Conclusion: Are Bean To Cup Machines Any Good?
So, are bean to cup machines any good? Overall despite some possible drawbacks such as the upfront cost and the potential for taking up significant counter space, bean to cup machines have a number of significant upsides that make them an attractive option when it comes to picking a coffee maker. With their ability to offer unrivaled freshness in the coffee they dispense, ground on demand, and the potential for extensive automatic menus, bean to cup machines offer some notable benefits to coffee lovers.