We're part of the Amazon Associates Program which means we may get a small fee if you buy from one of our links – this does not affect how much you pay for the product. Thank you if you buy through our links – we really appreciate it.
Panasonic NN-SD27HSBPQ Review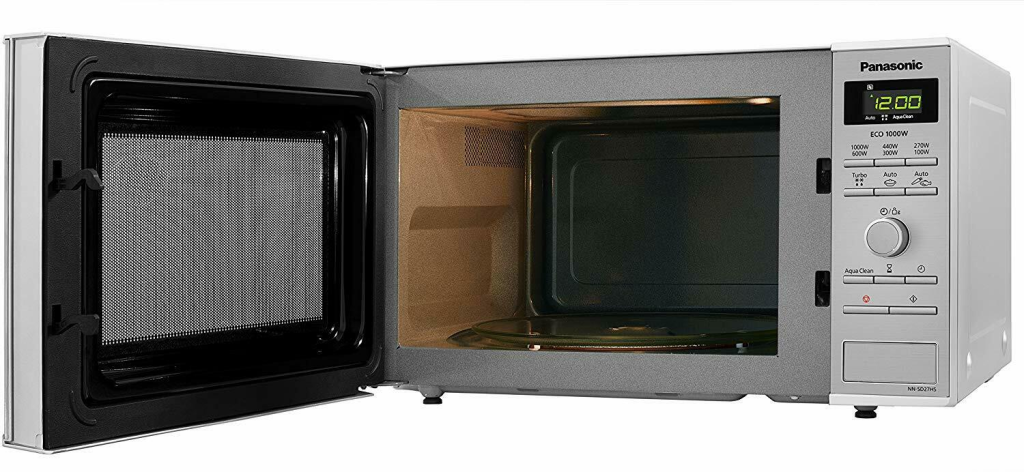 Cooks quickly and evenly? Check. Looks great? Check. Is easy to use? Double-Check? Sings lullabies? I don't think so but I can ask?
As you would expect from one of the best (and in many estimations the best) microwave manufacturers in the world, the Panasonic NN-SD27HSBPQ delivers on all fronts. You get a highly effective solo microwave for your cooking and reheating needs, it looks brilliant and is well built.
After Panasonic NN-SD27HSBPQ review, this solo microwave might be best described as simple excellence.
This starts with the way it cooks food which by most accounts is quickly and evenly throughout. This is thanks to its inverter microwave technology which means power is delivered more consistently and with precise control.
This is unlike traditional microwaves were the power is alternated on and off throughout a cycle which can often leave your food with random cold patches and leave you frustrated as you go back to the kitchen for the 3rd time to eliminate the remaining cold spots from your reheated leftovers.
On this front it delivers with users consistently raving about how well it performs with cooking evenly and also quickly.
With 1000W of power you would expect it to cook food fast and it most certainly does. Quite usefully you get a full range of power levels to make the most out of the machine and get the best cooking experience.
These go from 1000W (high) through to 270W for defrosting and 100W for warming things up. There's a handy table in the user manual which will help you determine the best power level depending on the food.
Alongside the high power you also get a range (10) of auto cook and auto reheat programs including defrosting which will select the best power and time for you based on your entering the weight of the item. This is a great function if you are unsure about the right settings for a given item of food.
This is a solo microwave meaning there's no added fuss with either a grill or oven.
With 23litres of internal capacity this microwave is a good size and would suit a single person or smaller households. The overall dimensions (H27.9cm x W48.8cm x D39.5cm) and its neat design make this look like a compact microwave but the interior is spacious enough to fit large dinner plates.
One of the things you see included most about in Panasonic NN-SD27HSBPQ review it's user experiences is how easy it is to use. It is definitely something that stands out about this excellent model.
They have tried to make the control panel as useful as possible without adding any complications. For example each power button has two options e.g. "1000W/600W" (high/medium), you simply press it once for "1000W" and twice for "600W".
After you've used this feature successfully the first time, you'll get to see how simple and effective it is.
All of the buttons on the control panel are clearly labelled and responsive. The instruction manual is very detailed yet easy to understand and will set you straight on anything you are unclear about.
As well as being easy to use, this model is also easy to clean. The stainless steel exterior not only means its attractive but also helps with straightforward cleaning.
On the inside Panasonic have equipped it with what they call an "Aqua Clean" feature. You place a bowl of tap water (200ml) with 1 tbsp of lemon and then press the "Aqua Clean" button. After 20 minutes the water will have boiled and the steam will help to deodorise the interior and loosen any stuck on food.
You can then wipe down the inside of the machine with a soft cloth to complete the process.
Our Panasonic NN-SD27HSBPQ review would not be complete without mentioning the fact that it looks attractive and feels well built. The exterior has a clean and smooth stainless steel finish which gives the microwave a real modern feel to it.
A great bonus feature of the Panasonic NN-SD27HS is the child lock which will make the control panel inoperable at your choosing.
All in all the Panasonic NN-SD27HS is a fantastic microwave that cooks and reheats food quickly and efficiently, is easy to use and quite pleasing on the eye. It offers excellent value for money from a reliable and highly renowned brand and comes with a great track record of user experience.
Key Features
Inverter technology for even cooking
1000W of cooking power for quick and efficient meals
23 litre internal capacity
"Aqua Clean" for easy cleaning
Available Colours: Stainless Steel
Dimensions: H27.9cm x W48.8cm x D39.5cm
Let us know your thoughts in the comments below