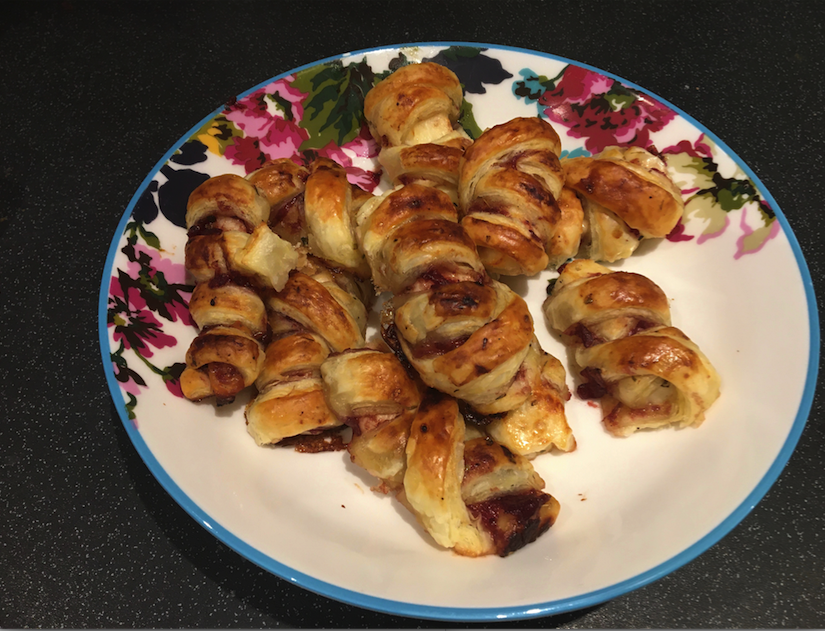 Halloumi and cranberry wrapped in a puff pastry – if there's a better combination out there for pastries, we don't want to know about it!
Halloumi and Cranberry
This recipe is simply awesome. It will go well on its own as a snack or as a starter or even better a party food especially at Christmas. You can't really go wrong with the salty taste of halloumi but when you add in the sweet tangy cranberry sauce as well allied with a crispy on the outside but gooey on the inside puff pastry, all bets are off.
Ingredients
Puff Pastry Sheet – 1x Roll (320g)
Halloumi Cheese – 2x Packs
1 Tablespoon olive oil
1 Tablespoon Oregano (Dried)
1 Tablespoon of Black Ground Pepper
2 Tablespoon of Whole Cranberry Sauce
2 Eggs Yolks
Method
Pre-Heat oven to 180°C
Slice halloumi cheese blocks into bite size chunks
Place halloumi blocks into a bowl and mix with the oregano, black pepper and olive oil
Unroll puff pastry sheet.
Spread the cranberry sauce evenly onto the puff pastry sheet.
Cut the puff pastry into even slices.
Place 1x halloumi block 1x puff pastry slice and roll evenly around the halloumi. Repeat until you have used all the puff pastry.
Place each roll onto a non-stick oven tray.
Place in the oven for around 20 minutes or until golden brown and evenly cooked.
Remove and let them cool down to a safe temperature before serving.
ENJOY!
This recipe was inspired by one created by the brilliant MOBKITCHEN. Checkout this recipe of toasted bagel!
*******************************************************