With so many microwave options out there it can be confusing to know which offer the best package. That's why we've put the work in to try find you the best flatbed combination microwave which maximise space whilst giving you everything in one appliance.
Are flatbed microwaves better?
Flatbed microwaves have the advantage of additional space in comparison to the classic turntable models. Instead of a disc that rotates to warm up or cook your food, there is instead a flatbed which leaves more space and should mean your food also gets heat evenly. It should mean that you have less food that comes out warm one side and cold on the other. However, this largely depends on the machine that you choose.
What factors do you need to consider in picking a flatbed combination microwave?
There are few key factors you'll want to consider before making your purchase of the best microwave available.
Size: The size of the machine your buying is one of the main things to consider. If you have a small kitchen then you'll want to make sure you pick something that's more compact. You also need to factor in any additional space that will be needed to ensure the machine doesn't overheat.
Capacity: The capacity of the machine will be stated in volume (litres). Typically you'll see models with around 23 – 27 litres and though you might think size and capacity would go hand in hand, a bigger footprint doesn't always mean a necessarily larger capacity so be sure to check.
Power: The rated power of your microwave (usually stated in watts) should theoretically tell you how quickly your food will cook. In reality that may not necessarily be the case.
Ease of Use: The last thing you want to do is spend £100's on a microwave that's too complicated to use easily. That's why ease of use features on our list as we try pinpoint the most user-friendly options available on the market.
Noise Level: It's no good having a great machine if it's too noisy for your home. Just like any other major appliance in your home, you'll want to make sure your combi oven is not too noisy.
Which is the best flatbed combination microwave?
As an Amazon Associate I earn from qualifying purchases. This does not affect how much you pay for the product.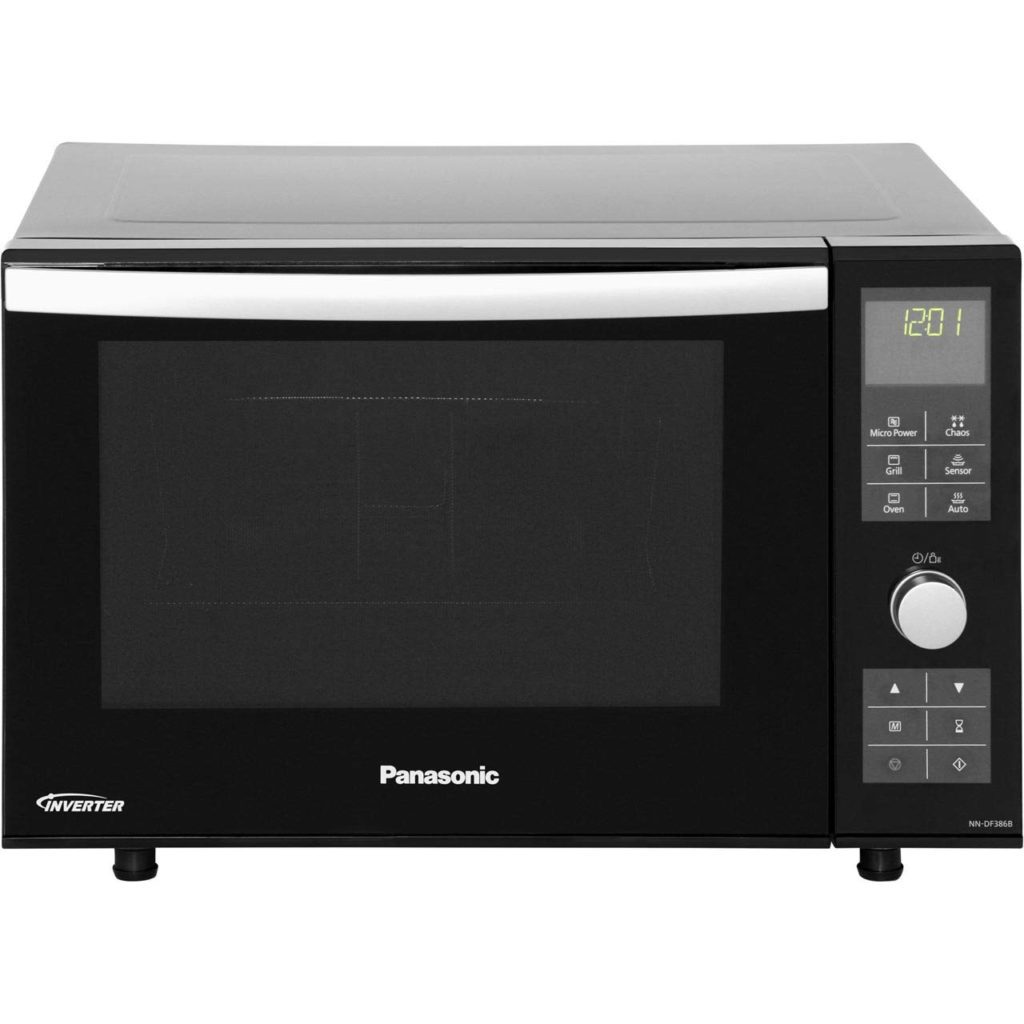 The Panasonic NN-DF386 is one of our favourite products on the market and our number 1 pick for the best flatbed combination microwave. Everything about says sleek and precise; from the exterior finish to the way it cooks your food. The well polished exterior would upgrade any kitchen counter with its black and silver finish giving it a clean look.
This model is a microwave – oven – grill 3 in 1 combination which gives you a lot of flexibility for what you pay. The pull down front door gives it a more traditional oven feel to it whilst also allowing you to cool down dishes on it – great for smaller kitchens.
The flatbed feature means there's plenty of space inside (23 litre capacity). This means you have 30% more space, enough to fit in a 350 x 230 mm casserole dish.
Due to the Inverter Technology dishes are cooked evenly throughout meaning you don't have to keep going back to reheat different parts of your meal.
The machines comes equipped with six different cooking settings for chilled or frozen meals, fresh or frozen vegetables and rice or pasta. Even better it also has a built-in sensor that means you cook food without having to enter the time, power level or weight.
Thankfully the controls are very user friendly and straightforward to use. Nonetheless if you struggle the instruction manual has plenty of useful guidance.
The model also comes with a wire rack for the grill and an enamel plate for the oven.
The flatbed base makes cleaning very easy which is always a bonus.
Final Verdict: This Panasonic model delivers a great all-round and versatile appliance that also looks brilliant.
Key Features
3-in-1 combination (Microwave – oven – grill)
Large capacity, perfect for large dishes
User friendly controls for no hassle use
Dimensions: 39.6 x 48.3 x 31 cm
Wattage: 1,000 watts
One of the most advanced combination microwaves oven on the market, the NN-CF873SBPQ is a real high grade if you have the budget and makes it on to our list of the best flatbed combination microwave in 2nd place for its sheer excellence.
It has a 1000W inverter microwave alongside an excellent convection oven and a 1300W quartz grill. This machine really does have it all covered when it comes to the cooking needs of your household. With this model you can microwave, roast, bake and grill your way to the perfect dinner.
When you're trying to make multiple dishes with an oven, the Panasonic NN-CF873SBPQ will have you covered. It has a brilliant convection oven allowing you to cook on two levels at the same time letting you get dinner made for the whole family in one go. This is one of many reasons why it's on our list for the best microwave oven for family of 5.
The convection oven works by circulating heated air evenly around the interior of the microwave. Unlike conventional ovens where you need to rely on the air rising, by passing hot air over the food it cooks more evenly across all levels and in a much faster time-frame.
To make the most of the versatility you have with cooking options, the model comes with an enamel shelf, a wire shelf and a glass shelf.
The Panasonic NN-CF873SBPQ has a flatbed design which means there is no turntable, unlike the traditional microwaves. Doing away with the turntable leaves you with far more space inside the microwave meaning you can fit larger sized dishes and more awkward shapes into the unit with ease.
In total you are dealing with a 32Litre capacity unit which gives you a good amount of space for catering to your family.
You'll enjoy the modern feel of the touch operated control panel, even if you may need to read up on the various icons. The touch panel is incoporated to the ultra slick glass front door. The exterior really does look like it has been designed with luxury in mind and the overall feel of the Panasonic NN-CF873SBPQ is likely to attract attention in your kitchen for its looks as well as its cooking prowess.
When it comes to easy cleaning, this unit also delivers. The back and top surfaces use 'Catalytic Self Cleaning Plates' meaning once you are done cooking, you can simply take a cloth to the grease on these surfaces and wipe them away. The sides of the oven have an easy to clean top coating all of which meaning cleaning the microwave is much easier task than traditional ovens. These features combined with the flatbed design make cleaning a much more straightforward prospect.
Final Verdict: Overall the Panasonic NN-CF873SBPQ Premium Combination Oven is a fantastic microwave oven . It combines a highly effective convection oven with a grill as well as a flatbed microwave with a sleek and modern design. There are less expensive alternatives on the market that may not do everything quite as well but if you're budget can stretch this far then this definitely one to look at.
Key Features
Cook on two levels at the same time with convection oven
1000W microwave for fast and easy meals
Large cooking capacity (32Litre)
Flatbed design for easy cleaning
Dimensions: D43.8cm x W49.4 cm x H39cm
No3 pick for best flatbed combination microwave.
The Sharp R861SLM is one of the best flatbed combination microwave models available and our number 3 pick.
The first thing you notice when you see this Sharp model is the fact it looks like it should cost way more than it does.
The sleek black and silver finish gives the model an expensive feel and would make a nice addition to most kitchens. The pull-down oven style door offers the machine a real modern feel.
The Sharp R861SLM flatbed combination microwave is one of the best machines available especially when you consider how much you get for the price you pay (Check the latest price on Amazon).
It combines a microwave, grill and convection based oven with a flatbed base (no turntable). This means you have much more cooking space than a standard microwave – great for those large or awkward dishes.
It's non-slip feet means there little danger of it moving once you set it on your counter.
The white branded internal base may not be to everyone's taste but it certainly gives it a clean feel. In addition, the noise and vibration levels in some phases of use maybe something you notice but are not deal-breakers.
Being a flat bed model, cleaning will not be an issue as its easy to access with no awkward turntable to take out and clean separately.
The buttons and controls are easy to use and won't have you reaching for the instruction manual. With the easy to setup child lock feature you'll be secure in the knowledge that your children cannot accidentally use the microwave.
Final Verdict: All in all the Sharp R861SLM is a great flatbed combination microwave especially when you consider the price you are paying and what you are getting. The slight noise concerns may tempt some to opt for the slightly more expensive models available but if this models falls within your budget, then look no further.
Key Features
Flatbed base for 30% more cooking space
Spacious 25litre capacity
3-in-1 combination of microwave, grill and oven
Dimensions: 30.0 x 51.0 x 47.0cm
The Panasonic NN-DS596 is an excellent flatbed combination microwave that gives all the benefits you would expect of such a model plus the added bonus of a steam function. It's why it is our 4th pick for the best flatbed combination microwave.
It has a combination system with microwave, oven and grill but the biggest differentiator for this high-end model is definitely the addition of a steam cooking which is not something you everyday.
This can be used in the oven mode or with the microwave or grill. This proves to be an excellent setting as it allows you to keep food moist in addition to reducing the time it takes to cook dishes. Steaming can also be quite a healthy way to cook your food, especially vegetables.
The machine is a flatbed design rather than a classic turntable setup which means you have an extra 29% of cooking space. The flat base of the microwave also makes it much easier to clean the machine once you are done.
This Panasonic model comes with a ribbed tray (Pana-crunch pan) which fits the width of the machine and be used for the oven and grill.
The ribbed base works particularly well in the combi mode. The microwave heat is absorbed by the base and used to cook the underside of the food. The grill cooks it from above resulting a food that is cooked evenly.
As you would expect from a well spec-ed Panasonic, there are plenty of auto cooking programs. In addition the inverter technology means food is cooked precisely.
Final Verdict: Though definitely not a budget option, you certainly get what you pay for in terms of design and performance. If you like the features but are put off by the price tag, the Panasonic NN-DF386 has most of the same features aside from the steam cooking at around £100 less.
Key Features
4-in-1 combination microwave, oven, grill and steam cooking
Flatbed design for 29% more space than conventional turntable model
Very spacious 27litre capacity giving you plenty of space to cook
Let us know what you thought of our list for the best flatbed combination microwave in the comments below.