In this Delonghi Magifica Review UK we're going to be taking a detailed look at the Delonghi Magnifica ESAM 4200.S bean to cup coffee machine.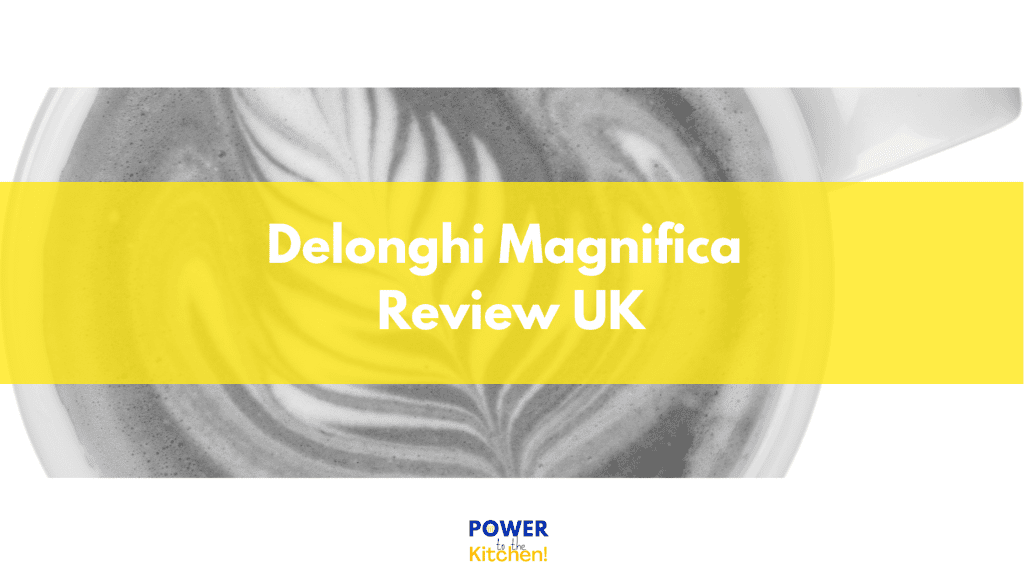 Note this article is based on the Delonghi Magnifica ESAM 4200.S available from Amazon.co.uk. The model available on Amazon.com will have some differences which you should be clear on before any purchase.
---
Delonghi Magnifica Review UK
The Delonghi Magnifica is one of the most popular and highly rated bean to cup coffee machines around based on the number and rating of reviews. It comes with a set of high ratings from users after being in circulation for a number of years and offers great value at this price point compared to many machines on the market.
The Delonghi Magnifica comes with an integrated coffee grinder with 7 settings alongside a manual milk frother, the Delonghi Magnifica offers several features to help take the hassle out of making your favourite drink as well as helping to make it as fresh as possible.
The Delonghi Magnifica appears to be set up for simplicity. It has a bean container for you to place whole beans which are then ground, extracted, and brewed for you after making a few selections.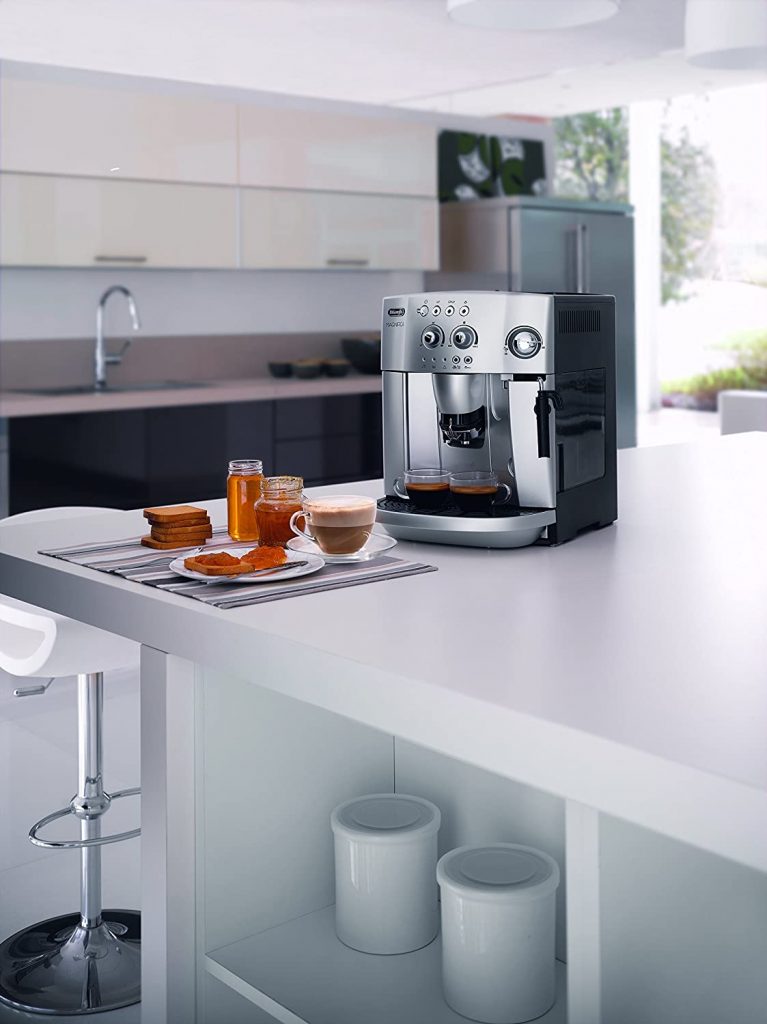 Delonghi Magnifica Review UK: Milk Frother
If you're particularly keen on milk-based beverages such as lattes and cappuccinos then the features of the milk frother are something to look for when searching for a machine.
They are usually either automatic and integrated or to be used with an external jug, or they'll need to be operated manually (typically with a steam wand/function) via a jug or cup.
The Delonghi Magnifica has a manual milk frother which means when making a milk-based beverage, once the espresso is done you will need to manually combine the milk you froth or heat up.
To use the milk frother is a matter of placing a suitable container with milk under the nozzle and heat up the milk or froth it depending on the drink you are trying to make. Indeed many users note how well the milk frother performs on the Magnifica.
Delonghi Magnifica Review UK: Type of Coffee It Takes
The Delonghi Magnifica is a bean to cup coffee machines.
For a lot of coffee lovers, there's unlikely to be any other coffee machine they would consider purchasing other than a bean to cup machine. They typically provide the freshest coffee possible at home as the whole roasted beans can be ground just at the point you actually want to brew the coffee.
This coupled with a roasting date that would be supportive of freshness gives you the freshest coffee possible out of the various types of machines available for home use.
For some however, the quick convenience of pre-ground coffee is also a draw.
The Delonghi Magnifica is designed to take whole beans and grind then extract and brew them for your desired drink just when you want it.
Quite helpfully, however, it can also take pre-ground coffee giving you added flexibility. Note however that you can only make one cup of coffee at a time with the pre-ground option.
Delonghi Magnifica Review UK: Size & Capacity
When selecting a new appliance for your kitchen counter the size of the machine you are looking at can often play a key part in the selection. This is particularly the case for coffee makers and bean to cup machines in particular as they can often take up a considerable amount of space.
They typically have a larger footprint to accommodate the various functions within the machines including their grinders which pod and ground coffee machines do not have.
The Delonghi Magnifica measures as follows:
28.5cm(W) x 37.5cm (D) x 36cm (H)
In terms of weight, the Delonghi Magnifica weighs roughly 10kg.
When it comes to capacity the key factors to look at are the bean container size and volume of the water tank.
The Magnifica has the following properties in these two areas:
Bean container: 200g
Water tank: 1.8 litres
Delonghi Magnifica Review UK: Ease of Use
Regardless of the type of coffee machine, they opt for users typically want something that they can use without too much hassle. A significant part of this will come down to the control panel setup as well as the level of automation involved.
Making your own coffee can be complicated so generally speaking the more automation a machine provides, the easier it will be to make the most of the machine. This is particularly a concern for those who do not wish to get too hands-on.
The Delonghi Magnifica is deemed an automatic bean to cup coffee machine so it will take care of the grinding, extraction, tamping, and brewing of your espresso. Where you have to get more involved is if you are then making a milk-based beverage as you'll need to operate the milk frother manually.
In terms of the control panel, the Magnifica appears simple enough to use with only a limited number of buttons and dials which are well explained in the instruction manual. Indeed many users mention that they feel the Magnifica is very easy to operate.
Delonghi Magnifica Review UK: What Users Think
In terms of user reviews, the Delonghi Magnifica comes very highly regarded and is clearly very popular given the number of high-rated reviews. Many users note how easy it is to setup and use whilst others also feel it makes excellent coffee.
Several users note how well this machine performs over time and they feel it offers excellent value for money.
In terms of drawbacks, some users have noted that it can be tricky to clean the internals of the machine when that is required though this is not a universal complaint it's still something to pay attention to.
Delonghi Magnifica Review UK: Price
Bean to cup coffee machines can have a significant price range. You can typically find decent budget models from around £250 – £300 with more premium-like offerings starting from around £500 up. There are however some machines that can cost as much as £2,000.
A higher price, however, doesn't always mean happier users as there are many machines like the Delonghi Magnifica for example that are budget options but get far better user reviews than more expensive models.
In terms of price, the Delonghi Magnifica does offer a very good budget option. It can typically be found for around £300 – £350.