Smoothies can be a delicious and nutritious way to start the day as well a filling snack throughout the day.
In this article we're going to look at how to make smoothies in a blender.
I regularly make breakfast smoothie and often end up coming back for the leftovers throughout the day as a snack.
How To Make Smoothies In a Blender?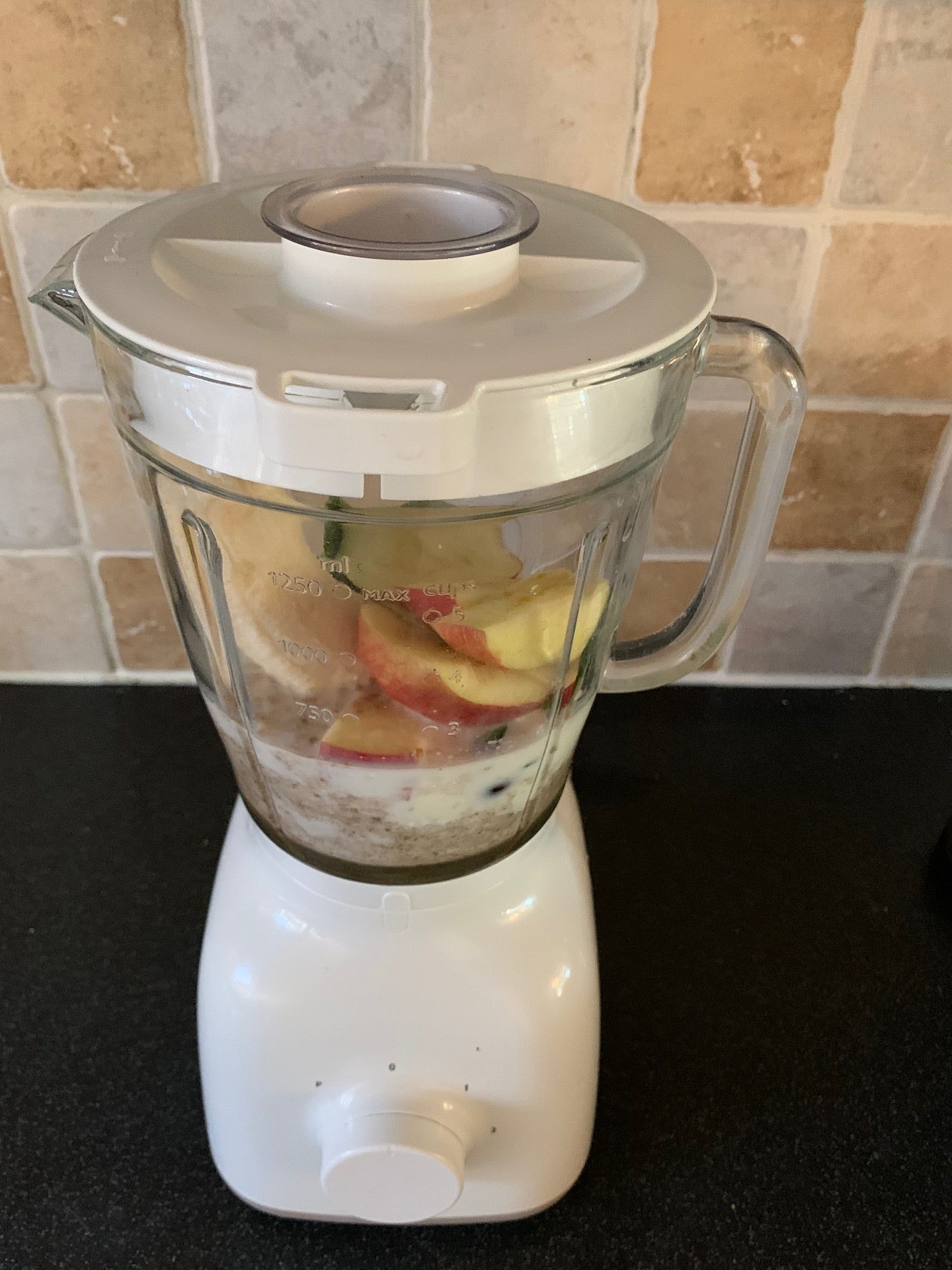 Base Liquid: To get started it's a good idea to have a liquid to act as the foundation of your smoothie. There's plenty of options in this category anything ranging from milk; yoghurt; coconut water; alternative milks eg almond. The other option is fruit juice if you don't mind the sugar levels.
Later on you can always top it with water to alter the consistency of your smoothie. To get started though try one of your favourite liquids.
Main Base: Next you want to add in something hearty to give your smoothie some real depth. This might be some substantial fruit like banana, mango or avocado.
For our favourite breakfast smoothie recipe we like to use Weetabix and Bran flakes as the main base to give the smoothie a real hearty and filling centre.
If you want to add in some greens like kale or spinach, now's a good time to toss some in.
Fruits: Next add in any othe fruits that you feel could add something to your smoothie. At this stage in our breakfast smoothies we typically add in apple, grapes, blueberries or something of this nature to give it some more depth of flavour.
When adding in fruit it can be fresh or frozen. Indeed some people like to always have frozen fruit on stanby for making their smoothies. This is a good way to save your bananas from getting too ripe and spoilt in your fruit bowl. The riper your bananas are the sweeter your smoothie will be but you may not want it to be too ripe as the smell can be quite strong in your smoothie.
Nuts and Mixes: Lastly, you can add in any extras like chia or sunflower seeds at this stage. If you think it won't be sweet enough for you, you could consider something like honey but the great thing with smoothies is that you can always try a bit at first and then alter it as you need to.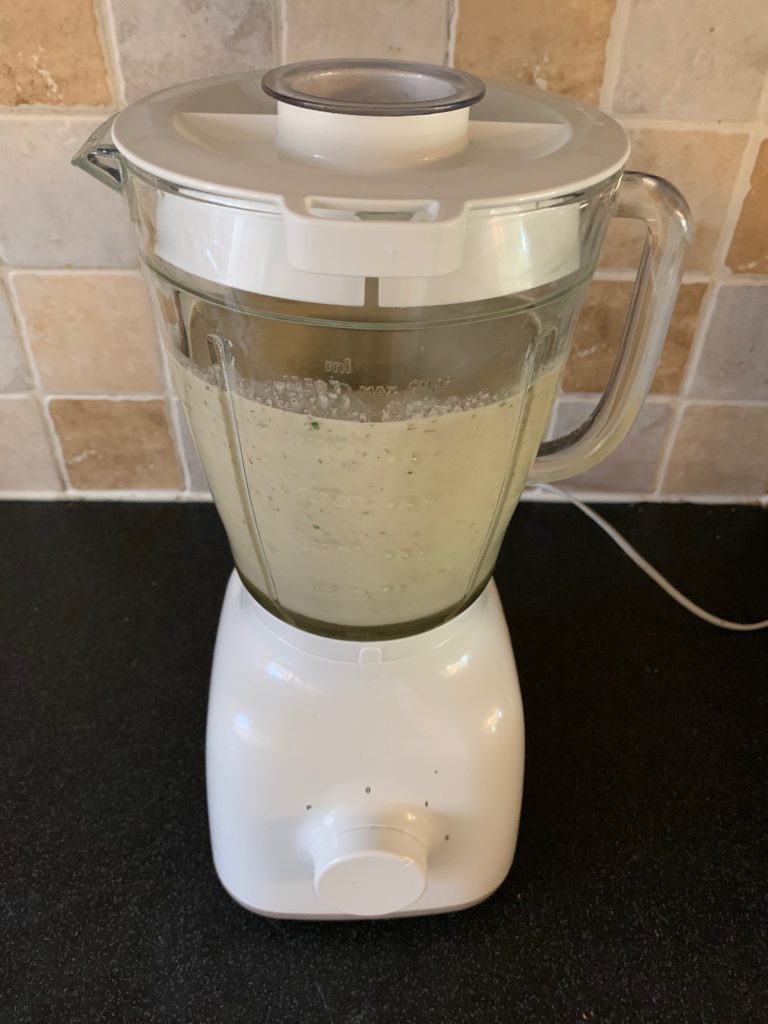 Blend It: Once you have everything in, blend it all together. With our blender we typically start on the lower speed setting to get the mixture going. At this stage make sure that you have enough liquid in the blender to allow it to get to work. You can add more liquid as you go.
Once the mixture has started to blend well, we typically kick it up to the high speed to really get at all the ingredients. Keep it running until you can see the consistency of the smoothie is nice and smooth.
If at this stage it looks too dense, add in some of your liquid. If on the other hand it's too runny for your liking then you can try adding in something to thicken the texture and making creamier; bananas, avocados or yoghurt can work quite well for this.
What Is The Best Blender For Smoothies and Soups?
Blenders can work quite well for both smoothies as well as soup. The blender in our kitchen gets used 4 or 5 days in a week to make breakfast smoothies and blend our soup. The one we have is a simple but very reliable Philips similar to the HR2106/06 model here.
There are plenty of great options available on the market. Vitamix for example have some of the most well renowned blenders on the market for example their Vitamix 065860 E310.
NUTRiBULLET is another brand with some high quality options behind it like the NUTRiBULLET 600 Series.
Whichever blender you go with, try to get the best you can. This is especially important if you will be making use of the blender regularly. My breakfast smoothies for example are needed quite frequently so it helps that my blender is reliable and quite powerful. It takes me only a few minutes from beginning to end which is priceless when there are so many other things I need to do.
What Is The Best Liquid To Put In a Smoothie?
So now that we've covered how to make smoothies in a blender – what is the best liquid to put in a smoothie? This really depends on your taste preferences. As we've outlined above there a few good options we like to play with:
Milk – Cow's milk or goats milk work well
Almond milk and other dairy alternatives
Coconut water
Coconut milk
Pressed fruit juice
Yoghurt is also another good one though bear in mind that you'll typically need to add in something that's runnier to allow your blender to be able to mix in all the ingredients.
The other liquid that can come in very hand is simply water. This can be useful if you need to make the mixture less dense though you may not necessarily want to just use water as your base liquid. It may not give your smoothie that creamy texture that can help make them so satisfying.
So what is the best liquid to put in a smoothie? You've got plenty of options – that's the beauty of smoothies, you can make them based on your own unique preferences. They're also so quick and easy that if one liquid doesn't work out for you today, you can always try a slight variation another day.
With our breakfast smoothies we often use goats milk but can easily switch to cows milk if there's none available.
What Ingredients Can You Put In a Smoothie?
When you're first starting out you might wonder 'what ingredients can you put in a smoothie?'. The simple answer pretty much anything you want that your blender can handle.
But of course you may want to make sure that whatever you're putting in will work well as an overall recipe. Nonetheless you can definitely experiment with smoothies quite easily.
Generally speaking though relatively soft fruit and vegetables tend to work very well in smoothies. These might include
Fruit:
Apple
Avocado
Pear
Mango
Passionfruit
Banana
Melon
Grape
Blueberries
Raspberries
Strawberries
Pineapple
Vegetables:
The other category that can work quite well with smoothies to give them a nice kick are nuts and mixes such as:
Chia seeds
Sunflower seeds
Cashew nuts
The other main ingredients are of course the liquids described above and here the choice is as wide as your palette can stand. Ranging from milk to juice, yoghurt and simply water.
Are Smoothies Better With Milk or Yogurt?
When you are trying to decide on a base one question that might pop up is – are smoothies better with milk or yogurt? The answer depends on what type of texture and consistency you are looking for.
From what we find, our smoothies made with milk tend to be runnier and will need other ingredients like avocado or banana to give them a more creamy texture. With milk however, we will tend to find it doesn't need another liquid like water to help the blender getting going. This is not always the case with yogurt especially the thicker variety like natural greek.
With yogurt on the other hand you may find your smoothie is creamier than it would be with milk depending on the type of yogurt. Our breakfast smoothies with yogurt in them always taste like they have a bit more depth in terms of their texture. Yogurt can also work quite well if you want that creamy texture but don't necessarily have all of your favourite ingredients for the job at hand .
With some yogurt based smoothies do keep in mind that you may still need to add in another liquid to make sure the consistency is not too heavy. Sometimes with some types of yogurts you may find the blender needs a bit of help from some additional water or juice to help it move.
So, are smoothies bettwer with milk or yogurt? That very much depends on your taste preference and what you are looking for in terms of consistency. In some instances, it may even make sense to mix the two together.
---
How To Make Smoothies In a Blender: Tell Us Your Thoughts