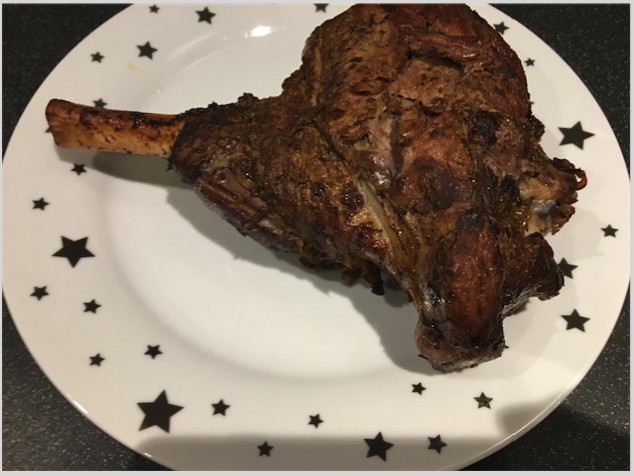 There's nothing as satisfying to the soul as a well roasted cut of lamb. We love this slow cooked oven roasted leg of lamb as it combines patient and rewarding slow cooking with a beautiful and succulent meaty finish.
This is definitely a cooking labour of love but it is well worth the rewards when you get the tender and juicy lamb onto your plate.
If you are pressed for time you can always slow cook the lamb on one day and then roast it another but be sure to store it suitably and safely.
Ingredients
Half a leg of lamb
1 Tablespoon black ground pepper
10g fresh ginger
2 Tablespoons of soy sauce
2 Tablespoons of all purpose seasoning
1 Tablespoon Oregano
1 Fresh Lemon
Method
1 – Place lamb into slow cooker pot (we are big fans of the Crockpot range of slow cookers – mine's been going 5 years strong). If you're half leg doesn't fit, you can try cut it in half
2 – Add half a cup of water into the pot.
3 – Add the pepper, ginger, all purpose seasoning, soy sauce, and oregano.
4 – Squeeze the fresh lemon over the top of the lamb and ingredients.
5 – Mix up all the ingredients with the lamb. I like to put the lid on the slow cooker and lift the cooking pot out of the cooker and shake the ingredients together. You may prefer mixing the ingredients by hand.
6 – Set the slow cooker for 4 hours and get it going.
7 – As the slow cooker is nearing completion, we pre-heat your oven to 180°C.
8 – Place foil into a suitably sized oven pan and position the lamb in the centre. Pour the liquid left over in the slow cooker over the top of the lamb.
9 – Roast in the oven for 1 hour and 30 minutes** turning it over midway through.
10 – Serve with roast potatoes and sautéed vegetables.
**Cooking times are for general guidance only; appliances vary.