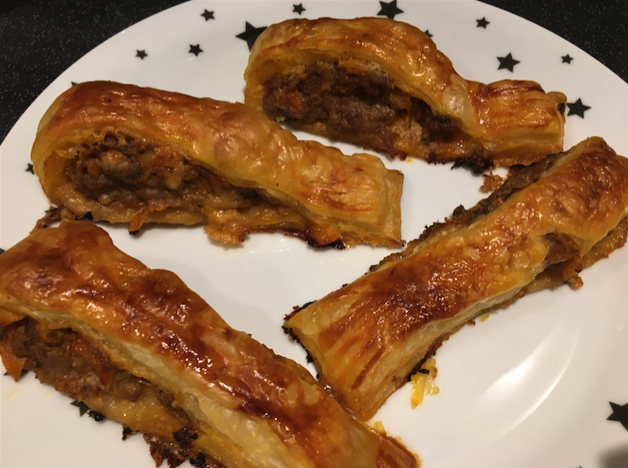 These paprika and mozzarella sausage rolls are simply delicious. They are most definitely a special treat and not something we make regularly but they are an absolute delight. They can be used a snack, starter or even as a main dish with some lovely salad on the side.
Ingredients
Method
Pre-heat the oven to 180°C.
Place the olive oil into a pan and heat up gently. Add the cubes of whole fresh pepper and stir for a few minutes until tender.
Place peppers into a separate bowl for mixing with the other ingredients.
Cut the end of each sausage and squeeze out the sausage meat into the mixing bowl with the peppers.
Add the paprika and ground black pepper.
Add mozzarella and red pesto.
Mix all the ingredients together in the mixing bowl and set aside.
Take your pastry sheet and lay it on a flat service. Take your sausage mix and lay in the middle of your pastry sheet all the way along the length of the piece. You want to leave a equal distance on either side of the pastry mix.

Note: The sausage rolls made in the video above were pretty large and used the whole puff pastry sheet. You can opt to make more bite-size rolls by simply cutting the sheet in half and using half the meat mixture for each side.

Take your egg mix and spread some lightly along the edges of your puff pastry sheet.
Take on side of the puff pastry and roll it over the sausage mix to join the other. Make sure the two sides are properly sealed. You can take a fork and press into the two folds to make sure they are sealed.
Take the your egg mix and spread it over the puff pastry. Make sure you cover the whole surface.
Use a large knife to slice the puff pastry into 9 sections. Place each one onto an oven tray lined with baking paper.
Place in the oven for 45 minutes (they should come out a nice golden brown).
ENJOY!!!