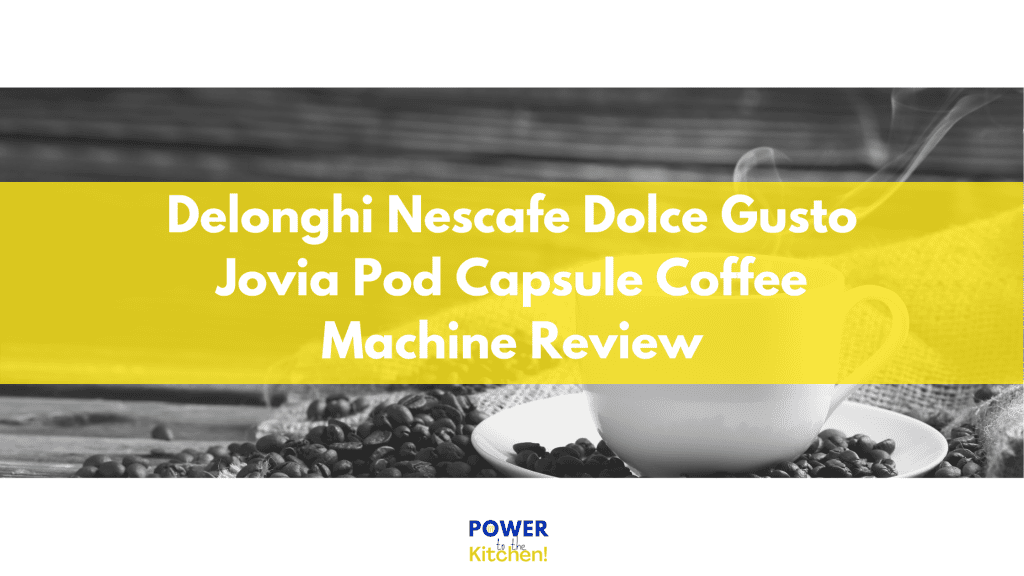 In this review of Delonghi Nescafe Dolce Gusto Jovia Pod coffee machine, we are going to take a look at a range of factors to help determine whether the Jovia may be a good option for you.
We'll be taking a detailed look at the following factors in the course of the review.
How They Work
Features
Design
Choice of Coffee
Size & Weight
Capacity
Price
What Users Say
In terms of operation, the
The
In terms of operation, the Delonghi Nescafe Dolce Gusto Jovia Pod coffee machine is relatively straight forward. To get it started once you've plugged your striking red cable (dependent on model) you ensure the lever is in the stop position and hit the power button. Quite helpfully it takes around 40 seconds for the machine to warm sufficiently meaning you're not waiting around for very long at all for the button to turn from red to green.
You can then lift the locking handle at the top of the unit, pull out the capsule holder and insert your choice of coffee pod before pushing the holder back in and closing the handle.
You then have a choice of running hot or cold water through the capsule depending on the type of drink you are making by simply toggling the manual lever at the top of the machine. Once you have made your selection of hot or cold you simply wait for your cup to fill up to your desired level before toggling the lever again back to the stop position.
Features
The Jovia comes with a range of useful features. One of the most notable is the eco mode which turns off the machine after 5 minutes of it not being used.
There's an adjustable drip stray and stand with 3 different positions. This gives you great flexibility with (i) low for large cups (ii) middle for medium size and (iii) high for smaller cups. You can also remove the drip tray quite easily when necessary and place larger containers which is handy for flushing through the system.
The Delonghi Nescafe Dolce Gusto Jovia coffee pod coffee machine is equipped with a maximum 15 bar pressure pump which helps to provide the flexibility to make a range of different drinks (more on that later).
Quite helpfully with the manual hot and cold switch lever, you get to determine the length of your coffee with relative ease.
To help you keep it in good condition, the Jovia is equipped with a descaling alert feature.
Design
The Delonghi Nescafe Dolce Gusto Jovia pod capsule coffee machine stands out immediately with its sleek and elegant design. Its smooth curves and minimalist feel are likely to help lift many a kitchen counter and indeed the attractive design is something that seems to be highlighted time and again across user reviews.
The design itself appears to be focused on simplicity of use as well as attractiveness.
In terms of the construction, the material is plastic and you get a choice of black, red, and white for the colour giving you some flexibility when it comes to matching your other appliances.
Choice of Coffee
When it comes to the choices of coffee variety on offer the Delonghi Nescafe Dolce Gusto Jovia gives you access to over 40 drink varieties including espressos, cappuccinos, latte macchiatos, and americanos.
You also get some cold options like the cappuccino ice giving greater flexibility in your drinks offerings for yourself and any guests.
The extensive drinks on offer may also make it more appealing if you have a wide range of tastes to cater to within your home.
The capsules come with both black coffee as well as milk depending on the drink you are after and both types hot or cold require water to be run through them based on the beverage you are making.
The coffee capsules themselves are designed for a mess and fuss-free experience. Quite helpfully the ground beans remain in the capsule once the coffee has been extracted.
Size & Weight
In selecting a coffee machine or any appliance the size of the unit is an important consideration especially if you are tight on space.
The Delonghi Nescafe Dolce Gusto Jovia pod capsule coffee machine is helpful in this regard due to its relatively compact nature. It measures W17cm x H23cm x D32.5cm.
In terms of weight, it comes in at around 2.5kg meaning it should be fairly straightforward to move around for most people.
Capacity
When it comes to capacity for the Delonghi Nescafe Dolce Gusto Jovia pod capsule coffee machine the key measure is the 0.8 litre water container giving you good flexibility in terms of the size of your drinks. The tank is easily removable for refilling and cleaning.
Price
With regard to price, the Jovia can typically be found from around £28 – £60 depending on any offers available at the time. This is a fairly typical range for this type of pod coffee machine and many users feel it provides good value for the quality of coffee it brings.
What Users Say
The Delonghi Nescafe Dolce Gusto Jovia pod capsule coffee machine comes with near enough universal high praise from an extensive user base. Many are very happy with its attractive and elegant design whilst others appreciate its ease of use. For many, the compact nature of the design makes it appealing as they feel it takes up minimal space in their kitchen. Many users mention the high quality of coffee produced by the Jovia as being an attraction.
In terms of drawbacks, the main one seems to be some users noting that the machine is manually operated rather than automatic meaning you need to decide when to stop the water running yourself. This appears to have caught some users off-guard so be sure that you are clear on this aspect ahead of time. Many others however note that this is something they get used to relatively quickly.
Conclusion: Delonghi Nescafe Dolce Gusto (Jovia Pod Capsule) Coffee Machine Review
The Delonghi Nescafe Dolce Gusto Jovia pod capsule coffee machine offers you an elegant and compact coffee maker and provides access to a range of different drinks menu. Coming with a wide range of positive reviews from users who are pleased with the quality of coffee on offer as well as the simplicity, the Jovia could make a great addition to your kitchen counter if it suits your needs and budget.
---