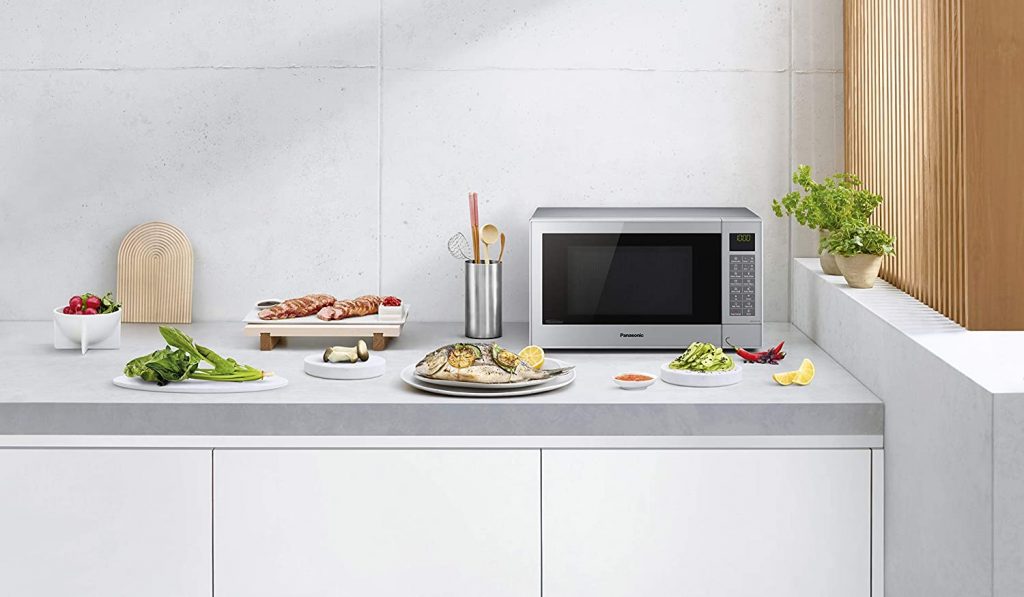 1 – Panasonic NN-CT57JMBPQ – Best Flatbed Combination Microwave
If you're after a truly excellent Combination Microwaves, our review is just for you to find out Best Microwaves of 2022: Our Expert Guide to Combination Microwaves!
There are microwaves and then there are Panasonic microwaves. Within that latter category there are some truly excellent Panasonic microwaves and the Panasonic NN-CT57JMBPQ Slimline Combination Microwave Oven is one of those.
The Panasonic NN-CT57JMBPQcombines ample cooking space with a microwave, oven and grill. In addition you also get a well thought out design that saves you lots of counter-space. This makes the Panasonic NN-CT57JMBPQ the perfect option if you need lots of cooking capacity but are tight for space.
It's why it's our pick for the best microwave for a family of 5 with a small kitchen.
If you're simply looking for a quick and easy way to heat up your food then this machine is overqualified for your needs. However, if you want to be able to do just about everything from defrosting bacon, to perfectly reheating leftover rice, baking cakes and roasting lamb then this model could be just what your looking for.
This is a 3-in-1 combination microwave, oven and grill – giving you everything you need for cooking for your family all in one great appliance. The combination is a great space saver as well as money saver.
One of the best things about the Panasonic NN-CT57JMBPQ is the inverter technology. Most conventional microwave ovens use a method of cooking which means the power is at 100% all the time and simply alternates between on and off during a cycle.
With Panasonic's inverter technology on the other hand, the power is steady. For example if you set it to 50%, the power will be maintained at that level for the whole time.
This precise power controls results in foods cooked exactly how you want them and much more evenly.
The technology also means you do not have to deal with cold spots when heating food and defrosting is done a lot more efficiently.
It also cooks and heats foods much more quickly than a conventional microwave oven. These benefits are all evident with the Panasonic NN-CT57JMBPQ.
At 1000Watts you will also have a very powerful microwave oven that can have your food cooked quickly.
In conventional microwave ovens the cooling fan is located at the back of the machine. In the Panasonic NN-CT57JMBPQ, the fan has been moved to the top of the oven resulting in a much smaller footprint (39.5cm depth). This leaves you with far more countertop space perfect for smaller kitchens.
Internally Panasonic have found a way to give you more space as well with a 34cm turntable meaning you can get even the biggest of dishes into the oven.
Overall you get 27Litre cooking capacity which is great if you have a large family or tend to cook big meals.
The machine comes equipped with plenty of pre-set cooking programmes including a kids menu to encourage healthy eating. You simply enter the weight of the food and the oven does the rest.
Quite helpfully the control panel is wipe clean meaning even if it does get smudged or grubby whilst using, its an easy job to wipe it down.
In all we think the Panasonic NN-CT57JMBPQ would definitely rank in top 3 among Best Microwaves of 2022 and would make a great addition to your kitchen especially if you have a large family but are tight on space. It has lots of features that are well executed and it looks fantastic.

Key Features
Inverter cooking technology for precise and evenly cooked food
Large capacity (27L) for meeting your family needs
Small footprint – great for small kitchens or tight spaces
1000W of power for quick and easy meals
Dimensions: D39.5cm x W52cm x H31cm
2 – Sharp R959SLMAA
If you're looking for a high capacity microwave with excellent features that's easy to use then the brilliant Sharp R959SLMAA is a great bet. Our experts ranked this microwaves in top 3 among Best Microwaves of 2022 (among best combination microwaves) hence here we're with the detailed review of this combination microwave.
Microwaves don't really come much bigger in terms of cooking capacity than what the Sharp R959SLMAA offers. Its extra large 40 litre capacity means you can easily cater to the needs of your household and make large dishes with no trouble.
In addition the large size means it can take large dinner plates with no problem. It's easy to see why it's been chosen as our best microwave for family of 5, which is another review in series of our reviews "Best Microwaves of 2022".
This awesome machine is a combination microwave, oven and grill all in one brillaint device. This will give you lots of versatility in your cooking.
This 900W machine comes with 5 power levels giving you lots of options when cooking. At the same time you also have access to 8 preset cooking modes taking the guesswork out of getting your food exactly how you want it. These include options for cooking pizza, ready meals, rice/pasta and cake.
The 900W grill is equipped with quartz technology. The quartz heating elements get hot very quickly making them perfect for cooking and browning foods such as grilled cheese sandwiches, sausages and pizzas.
If that wasn't enough, it also comes with a convection oven. These ovens are different to traditional models. They work by circulating heated air evenly around the interior of the oven. Unlike conventional ovens where you need to rely on the air rising, by passing hot air over the food it cooks more evenly and in a much faster time frame. It's for these reason that they tend to consume less energy.
The convection oven can reach temperatures up to 250°C. With ten different temperature settings ranging between 40°C and 250°C, you'll have plenty of options for making the perfect meal for your family of 5.
To help you get the most out of your various functions the Sharp R959SLMAA also has a combination ("COMBI") mode allowing you to combine the microwave with either the grill or convection oven. This reduces cooking time and also means your food can come out with a crispy brown finish.
Quite helpfully instructions pop up on the control panel screen prompting you take action as it's needed.
The silver trim finish gives this unit a real smart feel.
The Sharp R959SLMAA is designed for use on counter-tops or for built-in installation, rare versatility.
Due to its large capacity and size, it does mean that it takes up a lot of space.
So if you are tight for space in your kitchen then you may need to look elsewhere like the Panasonic NN-CT57JMBPQ Slimline or (checkout our picks of the best flatbed microwaves for another option).
Quite helpfully thought the minimum clearance above the oven unit is 13cm which compares well to a lot of other microwaves which need at least 30cm. This should give you some more flexibility if you are tight for space in your kitchen.
There is also an installation kit available from Sharp that allows the oven to be fitted within a kitchen unit. The oven also has an energy save mode allowing you to save on electricity when the oven is not in use.
Overall the Sharp R959SLMAA microwave offers a number of excellent features as well as a clean look and awesome cooking power that's why one of the Best Microwaves of 2022. It's extra large 40litre cooking capacity makes it a standout option if you need ample space for your cooking needs.
Key Features
Extra large 40 litre capacity microwave
Microwave, convection oven, grill and combination
Quick and convenient cooking with 900W of power
Modern and stylish silver finish with a stainless steel finish
Dimensions: Outside dimension-W55cm x H36.8cm x D53.7cm – Inside dimension W37.5cm x H27.2cm x D39.5.