Your fridge freezer is perhaps the most important appliance in your home. But deciding on the best model isn't always easy. That's why we've put together this list of the contenders for the best metal backed fridge freezer.
What Are Metal Backed Fridge Freezers And Are They Better Than Others?
Metal backed fridge freezers are those that use metal for the material on the backing plate. Typically fridge freezer backs have been made of either metal or plastic.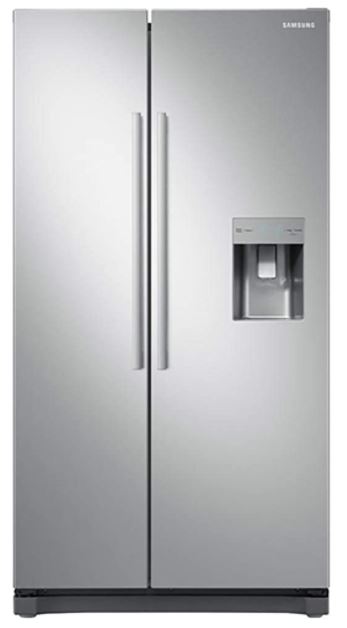 Though both types can meet the relevant safety standards in recent years it has been established that those with plastic backings can sometimes accelerate the spread of fire.
The metal backed fridge freezers are flame retardant.
From this point onwards any models we mention in our list of the best metal backed fridge freezers below are all metal backed.
What are the best metal backed fridge freezers?
As an Amazon Associate I earn from qualifying purchases. This does not affect how much you pay for the product.
1 – Beko CFG1582DW – Best Fridge Freezer Under £300
We're big fans of the Beko CFG1582DW and it makes our pick for the best fridge freezer under £300 as well as being our overall number one selection for the best metal backed fridge freezers. It is easily one of the best metal backed fridge freezers around and you'll quickly notice why.
One of the first things that stands out is the clever design of the water dispenser which is a must for many these days. The water tank is built into the bottom of the side tray on the door meaning it does not take up space unnecessarily with a separate tank and blends in very nicely to the overall design.
Another bonus with this dispenser is that it does not require any additional plumbing – just top up the water whenever you run low.
The frost free feature with this fridge is one of the best things about it and you'll notice that you never have to worry about frost building up which will keep your machine running as efficiently as possible.
Talking of which, this model has an energy efficiency rating of A+ which should help with your electricity consumption.
As an added extra Beko state that due to its 'Freezer Guard Technology' you can use the model in outbuildings, garage or anywhere else in the home and it will continue to operate smoothly.
Quite helpfully the freezer has an ice bank tray which is handy for making and holding ice cubes on a flat surface – rather than finding them balancing atop of your frozen peas.
This Beko has a fairly large capacity (net volume 261 litres) for what you pay. It has full width commodity racks on the side of the door leaving you with plenty of space to store your favourite essentials.
Final Verdict: The Beko CFG1582DW is our overall number 1 pick and our choice for the best fridge freezer under £300 for the great value it offers and excellent features.
Key Benefits
Metal Backed (Flame Retardent)
261litre capacity
Frost free feature to keep your machine running efficiently
Plumbing free water dispenser
Ice bank tray for easy storage of ice cubes
Energy efficiency rating of A+ which should result in better energy usage
H182 x W54.5 x D60cm
2 – Samsung – RB31FDRNDSA – Best Fridge Freezer Under £400
The excellent Samsung RB31FDRNDSA fridge freezer is our number 2 pick for the best metal backed fridge freezers and our choice for best fridge freezer under £400.
This sleek Samsung frost free model with a 70/30 split, packs in a lot of benefits for the price you pay (£365.00 at the time of writing). It has a number of features you would expect to find in more expensive models.
The first thing that hits you about this fridge freezer is it's stylish design and smooth finish. Whether you opt for the sliver/grey or black versions, each will leaves you with a notable first impression.
The water dispenser on the front of the model will make a great addition to your kitchen as it lets you store and chill your drinking water.
It's not connected to your mains water supply however, meaning you will have to remove the water container and top it up manually which can sometimes feel like a chore but is definitely not a deal-breaker.
The fridge has a capacity of 208 litres meaning you will have plenty of space to store fresh food and more in the top compartment. Whilst the freezer has a net capacity of 98 litres big enough to store plenty of food.
One of the best things about this model is the fact that you will hardly notice it's there when you are not using it. At 39 decibels it is relatively quiet.
It has an A+ energy rating and reassuringly comes with a 2 year manufacturer's warranty.
Final Verdict: This is a great all-round fridge freezer model which gives you several features you would expect to pay more for than the £349 it is currently available for.
Key Benefits
Metal Backed (Flame Retardent)
Large 308 total net capacity
Frost free functionality giving you a hassle free model
A+ Energy Efficiency rating which should help with energy consumption
2 Year Manufacturer's warranty giving you peace of mind
70/30 Split
Dimensions: H185 x W59.5 x D66.8cm
3 – Samsung RB29FWRNDBC – Best Fridge Freezer Under £500
The brilliant Samsung RB29FWRNDBC makes it on our list as our best fridge freezer under £500 and number 3 on our overall picks for the best metal backed fridge freezers.
This model has a 60/40 door split making it a good option if you consume a lot of fresh stuff but also need a good amount of freezer space.
One of the first things you'll notice when you get this model whether in black or silver is just how good it looks.
As you would expect of any Samsung designed product, it looks sleek and impressive. This model certainly stands out and has the look of a high-end machine to it.
When you first open the fridge door, you'll be immediately struck by how open and spacious the compartments feel.
The fridge comes with 4 shelves including the top of the salad crisper. One of these is a handy "Easy Slide" shelf which means you can pull it forward all the way to the edge and reach for items that would otherwise require lots of navigation to get to.
It's built on rolling hinges so you can easily slide it back into place once you have what you need.
Continuing the theme of easy and convenient storage, the 3 freezer drawers have larger openings than conventional models.
The "Full Open Box" design of the draws makes easy to remove large and bulky items. It can also fully open even if the door is only open at 90 degrees which will allow you to make optimum use of the space in your kitchen when deciding where to locate it.
This Samsung model boasts a net capacity of 288 litres . The fridge has 190 litres to offer whilst the freezer has 90 litres.
The machine is frost free due to its consistent cooling mechanism meaning you will not have to worry about constantly defrosting it manually. This also means it is more energy efficient.
The plumbing free water dispenser on the front door is a real winner; simply fill up the 4.5litre capacity tank and sip away on beautifully chilled water.
Final Verdict: If your budget can afford to stretch this far then this is a great option. It offers some great features as well as plenty of capacity for your cooling needs.
Key Benefits
Metal Backed (Flame Retardent)
Frost free functionality for low maintenance
Freestanding – place it anywhere in your kitchen
Good sized net capacity at 288 litres
60/40 door split
Available in black and silver
Dimensions: 64.7 x 59.5 x 178 cm
4 – Which Is Better Hisense Fridge Freezer OR Russell Hobbs
The wonderfully slim Hisense 264 Litre Freestanding Fridge Freezer or Russell Hobbs RH50FF144B both gets our vote for the best freezer for a single person and number 4 on our list of the best metal backed fridge freezers. However we'll discuss Russel Hobbs Model below in detail.
This model looks brilliant and is likely to be a welcomed upgrade in most kitchens. One of the best things about this excellent fridge freezer is the choice in colour. Whether its the sleek black; striking red; cool silver or classic white the Russell Hobbs RH50FF144B caters to all kinds of tastes
You will quickly come to appreciate the relative silence that comes when this fridge freezer is on. You will barely notice it is on thanks to the 41dB operating noise level (normal conversation is around 60dB).
This fridge freezer features reversible doors meaning you can choose which was you want the doors to open. This is particularly useful if you have space constraints in your kitchen.
In terms of style, this Russell Hobbs model looks sleek in any colour though we especially like the white and red designs.
The cool thing with Russell Hobbs appliances of course is that you can match the colour across various appliances so for example if you opted for the red fridge freezer you could then also go for red matching microwave, kettle and toaster.
The size of this fridge freezer unit means its perfect if you have a smaller than average kitchen or are tight for space but still want a reasonably sized machine.
With 50cm width and 54cm depth it comfortably has the smallest footprint on our list meaning you will not have to give up nearly as much space as some of the other models.
With a height of 141cm (roughly 4ft 6inches) it is also far shorter than the rest of the options on our list and makes it a great option if you have height constraints or need to fit in a small utility room.
The capacity of this fridge freezer is great if you don't need as much as space as the typical models offer.
There are certainly other fridge-freezer models on this list and available that offer you more capacity for a similar price. However, if you don't actually need all that space a half-empty fridge may not always be the most efficient to operate.
The unit has a total net capacity of 156 Litres with the fridge offering 100 Litres and the freezer providing 56 Litres. At this capacity you could fit around typical 9 shopping bags
This capacity would be well suited to a small household or a single person as well as a couple.
The fridge compartments comes equipped with 3 glass shelves 2 of which are very helpfully adjustable. There is also a storage compartment (cripser drawer) for your fruit and vegetables.
The fridge door has 3 fixed racks which will be handy for holding milk and drink bottles as well as condiments and things you use regularly. There is also an egg tray.
The freezer has 3 draws all of which are see-through. This is a great feature which will make it easier to pick out things you need.
As is common with freezers, the bottom drawer is taller than the rest which makes it perfect for storage larger items.
This model has an A+ energy rating which compares well to units of a similar price range.
One thing to note that may not be entirely appealing although unlikely to be a deal-breaker, is that it does not have a specific frost-free system. However, it still runs very efficiently and it's unlikely that you will see reports of any issues on this front.
To keep it working at its best over the long-run, a defrost is probably a good idea every so often.
The unit comes with a 1 year manufacturer's warranty. You may be able to get an additional year for free if you register the appliance with Russell Hobbs.
Final Verdict
The Hisense 264 Litre Free is a great model if you are searching for a sleek and modern looking fridge freezer that will be well suited to a small kitchen or a single person household at a great price.
Key Benefits
Metal Backed (Flame Retardent)
156 Litre Net Capacity – perfect for smaller households
Free-standing – so it can be located anywhere in your kitchen
Available in white, black, red and silver
Dimensions: H141.8 × W50 × D54cm.
What factors do I need to consider when buying a fridge?
Size: The size of the fridge freezer is critical as it needs to fit into your existing kitchen in keeping with the style you want.
Be sure to check the space where you intend to put the fridge to make sure it is suitable. It also will need space around the back and sides for air circulation.
Price: How much you spend on your fridge freezer of course depends on your budget but we mention it here because price is not always an indictor of quality.
Fridge freezers tend to start from around £200 to a few thousand however, just because a model costs £8,00 doesn't necessarily means it will be any better than one that sets you back £350. It really depends on what your needs are.
Fridge-Freezer Ratio: To give you a quick and easy way to compare the split between the fridge and freezer models are often stated in proportions e.g. 50/50; 70/30 and 60/40.
As an example a 50/50 models means 50% of the machine is taken up by the fridge door whilst the freezer occupies the other 50%. Remember this is not the actual split of the capacity; merely the doors but it at least gives you a rough idea.
Think carefully about the type of storage you need. If you tend to buy a lot of fresh food then you may want to prioritise a larger fridge compartment (e.g. 70/30). Whereas if you do a lot of bulk cooking or reliant on ready meals then you may want a larger freezer section.
There are some other splits like 80/20 and 65/35 however, they are not as readily available.
Capacity/Space: The internal storage space/capacity of your fridge freezer is one the most important features you need to think about.
Slightly confusing at times you'll see capacity stated in both gross and net terms. Gross capacity is the total space you have in a given compartment or overall.
The net capacity is the usable space you have once you take away what's already occupied by shelving units etc.
Freestanding vs. Built-In: You'll often see descriptions of machines online with the term "freestanding" next to them. This simply means the model is standalone and can be set anywhere there is space in your kitchen. This contrasts to built-in model that are suitable for integration into cabinets etc.
Other Features To Look Out For: Water dispensers can be useful especially for chilled water in the summer months; transparent glass and plastic draw and shelves for visibility and frost-free function for extra convenience.